Epic. So epic that I just couldn't not to create a sub-category for this manga.
It's like, Genshiken + Hyakko + Nyan Koi. Means, even if at first the ingredients don't look really new and have been seen many times already (it's obvious otaku fanservice), the whole thing ends up being pretty unique.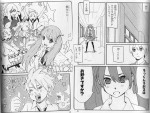 "Do you like rock'n'roll ?"
omg Slam Dunk x K-on x Vocaloid ? XD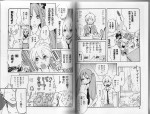 Takatoki, aiming for the harem ending~ XD
Seitokai no Ichizon ? XD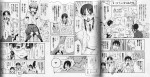 … but that was just Takatoki's idea for the anime they're making XD
Center/left pages : cute osage+meganekko Fuyuko-sempai is more into BL stuffs~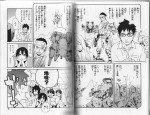 And the elitist jerk into post-apocalyptic war stuffs…
All : "Plain~"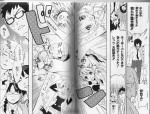 Since making anime is also about drawing, every members get a try at it…
… you can so tell who drew what XD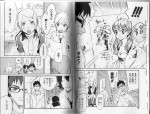 Ino-chan the yankee girl (drama cd CV : Eri Kitamura) gets a try at it too…
… and she's actually the best of them XD
… … URAYAMASHII ! XD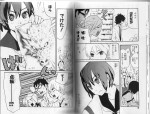 As for Yotsugi-sempai (CV : Kaoru Mizuhara)…
Dot art ! XD
Quite awesome in its own way XD


The twin sisters' profile page.
Actually, their 'full' firtnames are Fuyuko Khaan and Natsuko Khaan, and their lastname Arahary. They have mongol origins, hence the names… lol the author really thinks hard for making the most fucked up names possible XD
Unlike her imouto, Natsuko is in both BL and yuri <3 … she's into occult too XD
Another awesome pair of twin sisters is born~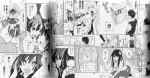 Searching for new members who have some experience in drawing and animation, they go hunt 'otaku in the closet' hidden in other clubs XD
They soon hear about legendary animated-gif maker Yadakari… who is actually some very hot hikikomori <3 <3 <3 <3 <3 <3 <3 <3 <3 <3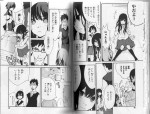 Sadly enough, she doesn't join the anime club…
I hope she will still appear occasionnally later.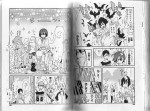 Honestly, it gets so many epic random scenes that I just dunno which ones I should scan and talk about…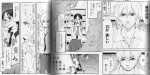 Other member of the seitokai is male version of Ichinose-sempai (Nyan Koi), a guy who goes for cute people no matter the gender…
Fuyuko-sempai will shed buckets of blood in this chapter XD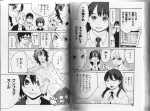 Delicious Natsuko-sempai finally gets the idea which makes everyone to agree : instead of thinking of a story, to think about the characters, and so making a 'chara-oshi' anime – means an anime which is all about the chars (well, like most of anime today… no complain about that tho XD)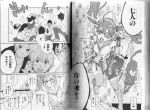 So they all work on the main char and…
… it kinda goes overboard XD


Jolina-chan's profile page.
Nothing is said about her name. No particular reason or anything, that's just her name… XD
Anyway HAWT <3 <3 <3 <3 <3 <3 <3 <3 <3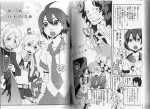 Random chapter splash~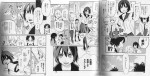 Takatoki, Yotsugi-sempai and Fuyuko-sempai are kind of thrown out because of their lack of drawing and thinking abilities…
So Yotsugi decides to get revenge by being the ones thinking about the obligatory mascot character.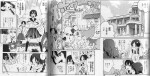 So they sneak in a strange mansion in which there're lot of animals (lol) that they could use as material…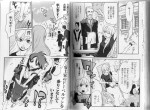 No surprise, the mansion is Jolina's house~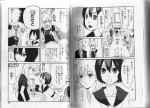 Y : "I came because I wanted to be your friend, Jolina."
J : ////
When reading the first volume I thought that Jolina was maybe in love with Jionji the anime club president, but in fact she just goes dere at everybody who gets kind words for her… that's reassuring XD
Y : "just kidding"
J : ga~n
XD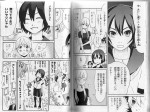 Yotsugi explains the whole deal about the animals to Jolina…
J : "… if it's just that, you should have told me earlier…"
Y : "Eh ?"
J : "I'm the seitokaichou, I won't refuse to help students doing their club activities seriously…"
Y : "Jolina, you're actually a nicer girl than I thought !"
J : "You only noticed it now ? ////"
Y : "I thought you were more some angry hag"
J : "WHO'S A HAG, WE'RE THE SAME AGE !"
Y : "In that case I don't have to steal them then, that's cool~"
XD
Want moar~
Personal Rating :





:beer: