Zic(s) du moment :
Harumi Kamo – Seishun no Prelude

Vous n'êtes pas sans l'ignorer, mais la chaine Gulli repasse dans son émission "Télé Grenadine" les épisodes du très culte Slam Dunk version shoujo, Jeanne & Serge ("Attacker YOU !" en VO).
Donc je matais l'OP et sa chanson qui fait sans doute partie maintenant du patrimoine national (j'imagine que tout les Serge et toutes les Jeanne de france ce sont fait chanter cette chanson par quelqu'un), et je me disais que j'avais jamais encore checké l'opening original. Et en fait…
… il décalotte son luigi ! XD
En plus y'a un karaoke ! Tous ensemble !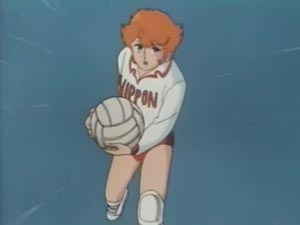 Hashiridasu, fune ga tsukuru
namishibuki no you ne
kuishibaru shiroi ha kara
koboreta hohoemi wa
ima futari, Seishun Prelude !
Yubi to yubi no sukima soko ni wa taiyou ga aru wa
Koi to koi no sukima soko ni wa ai ga nozoku~
YES I'M A SUNSHINE !
Kono hizashi wo agetai no yo
SUNSHINE !
Karadajuu ni kanjite
Ima futari, Seishun Prelude !
Kurushimi to, kanashimi to ga
kurosu shiteru yoru mo
kirakira to, tanoshisa kara
hajimaru asa ni, kawaru~
Comme les vagues que fait
le bateau qui fonce à travers les flots
Mon sourire qui débordait
de mes dents blanches serrées
Maintenant pour tous les deux, Seishun Prelude !
Entre mes doigts, je vois le soleil là-bas
Entre deux romances, l'amour guette
Yes I'm a sunshine !
Je veux te donner ce rayon de soleil
Sunshine !
Que tu le sentes dans tout ton corps
Maintenant pour tous les deux, Seishun Prelude !
Même la nuit où se croisent
la douleur et la tristesse
Changera en un matin
éblouissant et joyeux
Traduction vite-fait plus ou moins littérale,  pour le lulz XD
Ils passent aussi la série Sherlock Holmes de Hayao Miyazaki, pour ceux que ça interesse…
:beer: